We are hiring!! Are you the next perfect princess to join our team? Apply today!
---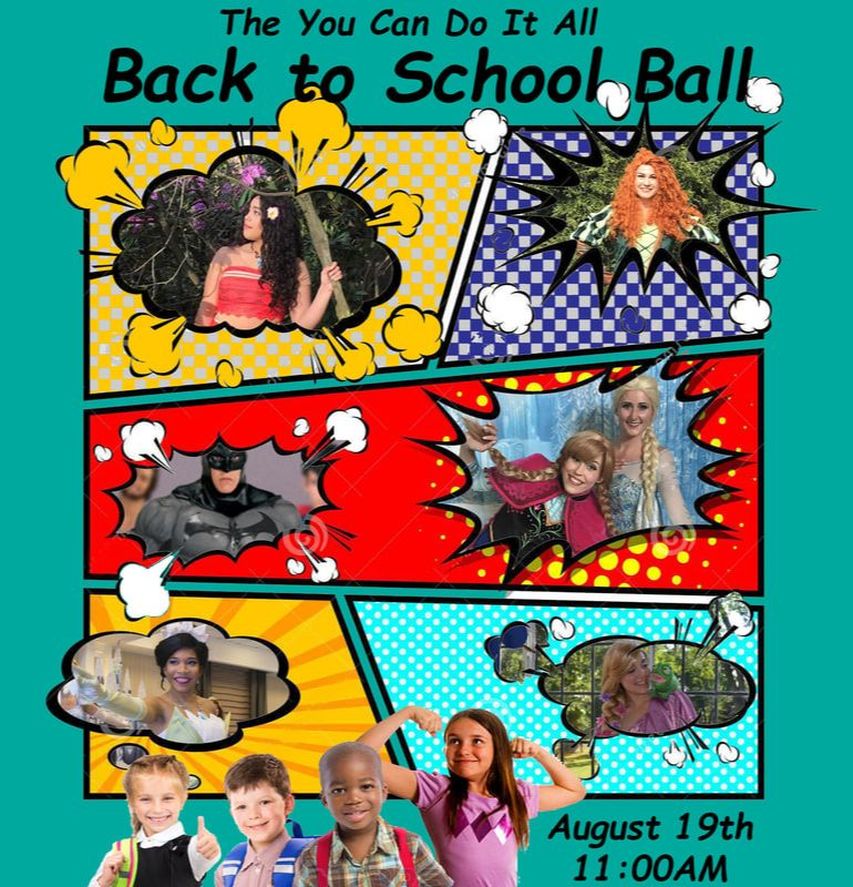 Join the teachers of PPPNJ for the most empowering event of the year! Let's get back to school feeling confident, stronger, and ready to do it all!
---
Make your little one's dream come true and invite their favorite character to their birthday party!

---
Just imagine their delight when their favorite princess, pirate, fairy, or superhero walks into their party. At Perfect Princess Parties NJ, we specialize in creating unique character visits, competitive prices and entertainment that can't be beat. We offer a variety of customizable packages and will work with you to create the perfect party for your child. Our parties are not generic princess parties, but completely themed to immerse your child in their favorite storybook world. Plus, Perfect Princess Parties NJ was founded by teachers, and all of our performers are teachers, in college earning a teaching degree, or talented performers with extensive experience/training working with children. Our performers do not put on a costume and read from a script. They genuinely care about your child and will interact with them on a real level, bringing their fairytale dreams to life in a way they will never forget! That's the Perfect Princess Parties NJ difference.
---
---
What other parents are saying:
"You ladies did an absolutely incredible job! I am an absolute perfectionist and you EXCEEDED my expectations! I truly felt that you loved what you do and you love love love children. You're approach with them was incredible. Your smiling faces in every picture and the smiling faces of all the children are just unbelievable. Unbelievable team, you could have walked out of Disney World! Kudos to you for being so amazing and doing such an incredible job!! It was an absolute pleasure meeting you :)"
- Alexandra Balandin

"Thank you so much to you all, especially the seashell princess and the poison apple princess who made my daughter's 1st birthday party even more magical! They did a great job and all the little girls were beaming with excitement! Priceless!!"
- Deandra Reinfeld

"Thank you so much for a magical evening! II had about 50 kids and Anna & Elsa did an AMAZING job entertaining them ALL! Its been a week and her classmates are still talking about what an amazing time they had! highly recommended"
-Jasmine Ramsey

"I just wanted to tell you how wonderful you girls were yesterday! All of the kids had such a great time! The adults were raving about you too, they loved your dresses and thought you looked just like Elsa and Ana. You did such a great job of keeping the kids calm yet entertained! We really appreciate it! Thank you again!"
- Jen Bruzzio

"To everyone at Perfect Princess Parties: we cannot thank you enough for everything you did to make our senior class fundraiser such a huge success! The Snow Queen and Ice Princess are beautiful, talented, professional, entertaining, nurturing, and so much more! We cannot wait to work with you again and we'll recommend you to everyone we know who's looking for a one of a kind event! On behalf of Paramus High School class of 2015: Thank you thank you thank you!"
- Michele Sarnoski

"Thank you for an amazing 4th Birthday! All of my guests were fascinated at your involvement & engagement with all of the children. You guys are awesome!!"
- Judy Cruz

"Thanks for making my daughter Samantha's bday party a dream come true. She had a blast and so did her friends and family."
- Marilyn

"I just wanted to say thank you for the wonderful job you did at Marissa's Birthday party this Saturday. All of the girls and my son had a blast! Great job!! Thank you for making it a memorable day"
- Thank you
Melissa De La Cruz


"Your "Anna" and "Elsa" are to be commended on their gentle, kind, and caring demeanor. Their social skills were exemplary, and their willingness to make every child there feel special was un-paralleled. I thank you for your efforts. Do you want to build a snowman? For the first time if forever, I will be right here...."
- Laurie


"I can not stop watching the clip you posted from Victoria's party! What an AMAZING day!! Thank you again for being a huge part of my daughter's 4th birthday. The children were mesmerized the second you both walked in the door. The activities were so much fun and the children were engaged the entire time. My personal favorite was the read aloud with audience participation and singing- even the parents were singing along! I have already referred Perfect Princess Parties NJ to friends and colleagues and I will continue to do so. I am so excited to see the new venues- looks like I will be booking a party for my older daughter in March!"
- Melissa

"Alessia and her friends had a wonderful time. Thanks so much :) Just so you know her entire class was saying how happy they were to meet Elsa and Anna."
- Tiziana

"I just wanted to say thank you for the wonderful job you did at Marissa's Birthday party this Saturday. All of the girls and my son had a blast! Great job!! Thank you for making it a memorable day"
- Melissa


"I wanted to say thank you for the wonderful job that you did at my daughter's party today. Although a bit timid at times, Emily really enjoyed her party and you created an experience that she will remember for a long time. I will definitely recommend you to all of my friends.Thanks again for making my daughter's birthday a success!"
- Natalie

"what can i say!? you girls are amazing.... patient, beautiful, awesome with the kids, professional! let me stop... cuz the list is huge! love it love it love it!!! you girls are "keepers" for the next 10 birthdays parties of my baby daughter... i so reccomend you girls.... thank you and thank you my dear princesses."
- Vanessa


"You guys both did a wonderful job! Our little girl's birthday was extra magical for her. Thank you!"
- Beata


"Thank you Perfect Princess Parties NJ for making our twin girls, Sophia and
Emma's 4th birthday a day to remember! All the children were amazed the Ice
Queen and Princess were actually at our house. My kids are still talking about
it! I would definitely book Perfect Princess Parties again for another
enchanting birthday celebration!"
-John Graci


"Thank you so much for the wonderful time that you both provided to the children
at Julia's party! Julia was in shock when she saw Elsa and Anna walking down
the street to her party. We asked her what her favorite part of the party was
and she said when Elsa and Anna came to my party. She along with the rest of
the kids had a blast! Thanks again for making Julia's party even more special!"
-Erwin Holzli


"My daughters 6th birthday party was a hit thanks to Elsa and Anna of Perfect Princess Parties NJ. Nothing made us parents giggle more than when the kids noticed their arrival at the park venue where we were hosting the party, and ran out in a big swarm to greet them like celebrities! The boys and girls all joined in the fun tattoos, crafts, story time, games and amazing sing along!
They ended by singing happy birthday and having a coronation ceremony that made my daughter Lillian feel incredibly special, but even better, each child also felt just as special, receiving a formal Prince or Princess certificate. It was such a fun day! Also, "Elsa and Anna" were terrific with working with me. When the sky looked like rain and I was a nervous wreck, they assured me everything would be fine, and they were right! They were flexible, easily accommodated by our limited location and worth every penny! Lillian's friends are still buzzing from her party! Thank you Perfect Princess Parties NJ for making her birthday so so so special!!"
-Jody Lazarski


"Just want to say thank you. You made Abby's birthday one she will never forget.
All she talks about is how the REAL Rapunzel was at her party. You were really
great with the kids! Thanks again!"
-Wendy Rodriguez


"You were amazing!!! Thank you again!!!!"
-Mary

"Having Elsa and Anna show up for our daughter's 4th birthday party was such a delight! Both young ladies were so cordial, professional and great with the children. All the kids were in awe with Elsa and Anna. Their hour long program of face painting, story time, songs, game playing and prince and princess school was just perfect. The kids enjoyed every minute and they never got disinterested. Elsa and Anna were a huge part off making our daughter's birthday party such a success. Thank you!"
- Deborah and Peter

"[Cinderella] was kind and polite to my guests and included all of the kids in the activities. The children were in awe of her costume and her mannerisms as she read a story and played freeze dance. They each received a special tattoo and spent quality time with Cinderella. My daughter has requested Elsa and Anna for her 4th birthday party, and I will definitely call [Perfect Princess Parties NJ]"
- Teresa

---