The Pinky Promise Campaign
When Perfect Princess Parties NJ, LLC. was founded, we made a promise to be princesses who make a difference. We vowed to be role models for young children who actively volunteer to better our community and the world around us. Our cast members have visited children at hospitals, payed home visits to special children, donated food to homeless shelters, actively supported countless fundraisers, charities, and more. Contact us today if you know a loved one, charity, or fundraiser that could benefit from a little extra magic!
---
Join the Snow Queen and Ice Princess at
2018 Feed Fest

A family-friendly party to help us feed those in need!

Sunday, February 11, 2018 12:00 - 3:00pm
Princesses will be there from 1:30-2:30pm

Children can make valentine's for senior citizens and decorate lunch bags and place mats for the food bank.

All activities free with a nonperishable food donation, grocery store gift card, or monetary donation.

Location: JAM Catering Hall in Waterloo Village, NJ


---
​Meet our Honorary Prince Charming of
the Valentine Tea Party!

Xavier was born on May 28, 2011 to a team of doctors, nurses and heart specialist at Children's Hospital of Philadelphia (CHoP). Eighteen weeks earlier, he was diagnosed with Hypoplastic Left Heart Syndrome (HLHS). HLHS is a severe congenital heart defect where the left side of the heart is undeveloped and unusable. At just 4 days old, Xavier went into the OR to have his first open heart surgery. At 4 years old, Xavier had his 3rd open heart surgery... but during recovery, Xavier went into cardiac arrest. His surgeon saved his life, but it has been a long road to recovery and rehabilitation.

February is Heart Awareness Month


​Please help us raise donations for Mended Little Hearts. Mended Little Hearts is non-profit, volunteer-led program providing hope and support to children, patients and families affected by congenital heart disease.
​
---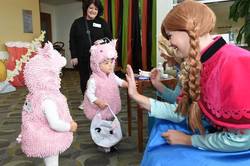 ​Perfect Princess Parties NJ, LLC. has spent time volunteering to visit children at Valley Health Hospital for the past 3 years.

We will also make special visits to hospitals throughout NJ arranged by loved ones
---
---
​Perfect Princess Parties NJ, LLC. Has donated characters to 22Q at the Zoo, a worldwide awareness day, for the past 3 years.
For more information, visit the
22q11.2 Foundation Inc.
---
---


​The Snow Queen cut off 20+ inches of her hair to donate and kick off a fundraiser for St. Baldrick's Foundation for Childhood Cancer Research.

With your support, we raised hundreds of dollars for childhood cancer research through portions of sales, direct donations, and a fundraiser at AppleBees.

Thank you!

---
---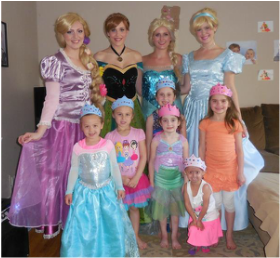 Our Princesses are on Team Zoey!!
"
Who is Zoey, you may ask? And what exactly is her "Team"? Well, first of all, Zoey is Zoey Aster Penny, a beautiful, sweet little girl, born September 20th, 2009, with Progeria. This is a fatal disease that prematurely ages kids many times faster than normal. And Team Zoey includes every one who helps in the Fight Against Progeria. This could mean you."
- Find out more at
www.TeamZoey.com
Visit Team Zoey on Facebook

​​
---
---
---
---
---



​We were proud sponsors of Pequannock's Boys and Girls Club Basketball in 2015.
Might we boast that our young team were the
undefeated champs??

As with art and music, sports are in integral part of raising well rounded and healthy children! Whether you win or lose, participating in sports fosters team work, dedication, and good sportsmanship. Get out there and play today!